SEO On A Budget: From 0 to 41,000 Organic Clicks In 8 Months
0 to 41,000 Clicks In 8 Months
Dominated Niche Topics Through Keyword Silo Structure

Schema Markup Improved CTR

Google News & Bing Hub Approved

Google Discover Trending Articles Spiked

Sales Sky Rocketed 800% From Month 6 To Month 8

Spikes In Referral Traffic Through PR

Strong Domain Authority Through Redirected Curated Domains
We've all heard of SEO success stories, but this one is awe-inspiring. With brand new domains, you may have to wait up to six months to get any traffic, as Google puts your website into an approval period for trust.
With a budget of under 4k and eight months to work with, we increased our client's clicks from 0 to 41,000 in that time! This was a brand new domain, so everything was from scratch.
Our team worked hard on technical fixes, content strategy and link building, which led to this incredible result.
In this case study, we'll look behind the scenes at our challenges and our strategies for success.
We will show you how our team at Riordan SEO increased our client's revenue by 800% while improving the quality of leads. 
0 to 41,000 Clicks In 8 Months
Revenue Increased 800% From Month 6 to 8 from Ad placements and membership sign-up revenue streams.
Industry: News & Publishing Membership Site
Goals:
UI & UX Complete Overhaul
Fix technical errors
Faster Indexing Through API
Improve user journey
Increase click-through rate from Google
Google and Bing News approval
Dominate four niche topics through silo structures
Increase revenue through Ad placements, sponsorships and membership sign-ups.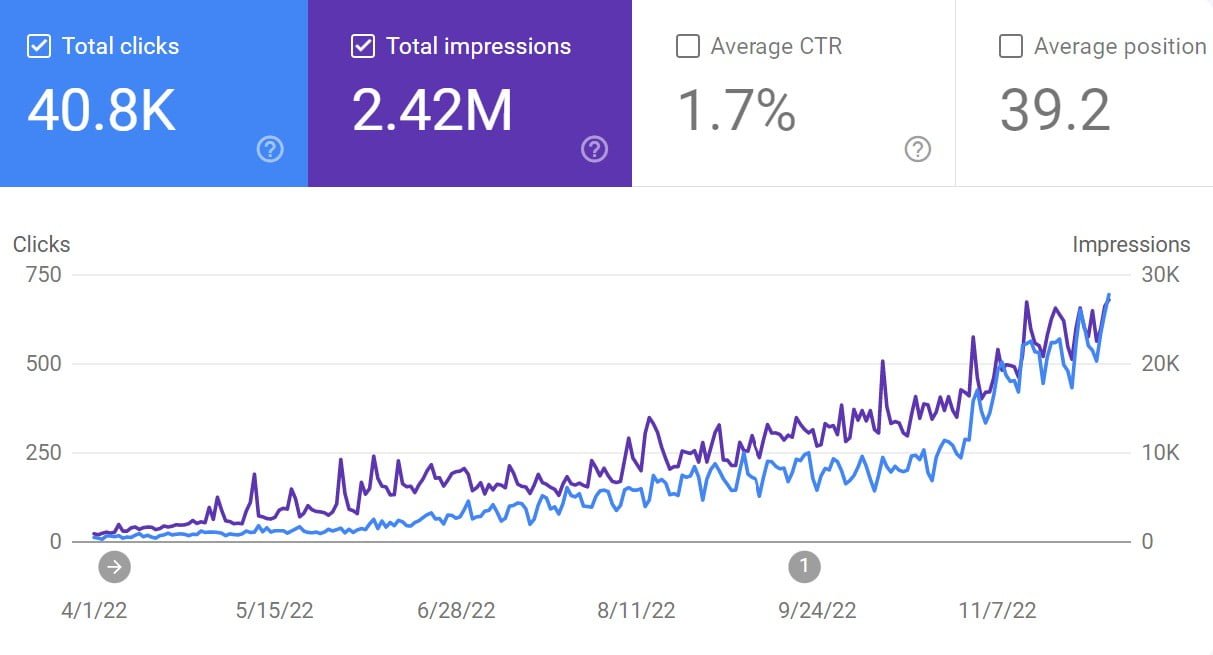 We helped the business get to the number one position for various high value keywords through a new website design, a full-suite SEO package, PR and several link strategies.
Overview
This case study is about taking an unknown entity from obscurity and transforming it into an online powerhouse in just 8 months – with limited resources and time. Most of the budget was spent on Inhouse SEO training.
The company had no prior work done on its website.
To start with the basics of SEO, technical issues such as JavaScript rendering, slow load time, canonicalisation and redirects were fixed. The content strategy was based on statistical reports with lower search volume that gained natural links.
We built just under 150 referring domains through PR tactics and guest posts.
Link building focused heavily on relevancy with links built through resource links or expert commentary for high-quality guest posts. Results took some time, but the continued effort ensured the contract could be concluded four months early if there was no movement in 60 days.
In short – this case study proves that compounding efforts is indeed important for SEO since it's a long-term play!
Client Background
This project was an incredible challenge for a small client with limited resources, but the end result was nothing short of remarkable! We needed to build trust between the client and us, develop an SEO training & collaboration strategy that worked within their budget constraints, and create a timeline for success.
Here's what we had to work with:
Client Goals: Increase website visits
Budget Constraints: Spend 2-5 hours per week building links
Project Timeline: The contract could be concluded 4 months early if there is no movement in 60 days
Trust Building: Focus on relevancy for link building
We delivered amazing results by focusing on content creation and link-building strategies that made sense within our client's budget and timeline constraints.
We planned out key phrases relevant to the property industry. Then we used resource links, expert commentary, high-quality guest posts, and company roundups for property tech sites as our main link-building tactics.
The results speak for themselves; after just 8 months, we had increased website clicks from 0 to 41,000! It shows that with enough dedication and focus, achieving great things is possible even when working under a tight budget and timeframe.
The Challenges
You'll face many challenges when it comes to achieving success with SEO, but don't let that stop you from reaching your goals!
Link building is the cornerstone of any successful SEO strategy and must be done correctly to yield results – this involves targeting high-relevancy links with traffic. It's also important not to forget about technical issues such as JavaScript rendering, slow load time, canonicalisation, internal redirects, broken pages and unused scripts when working on an SEO campaign – all these factors can affect how well your website performs in search engine rankings. Creative solutions may be needed if a limited budget is available to reach the desired outcome.
Content creation is another key element that should not be overlooked or underestimated. Accelerating content creation for two months before gradually decreasing volume can help establish credibility amongst search engines while creating compounding efforts that will help sustain long-term growth for the website.
Technical SEO Fixes
You need to identify and fix any technical issues hindering your SEO success, like JavaScript rendering, slow load time, canonicalisation, internal redirects, broken pages, and unused scripts – it's essential for ranking well.
Our main focus was making the site accessible to crawlers so they could index all of the content on the website.
We identified and fixed crawling errors by optimizing JavaScript and improving server response times. We also optimized content by ensuring canonical URLs were used throughout the website. This ensured that search engines wouldn't penalize us for duplicate content.
Additionally, we checked for broken pages and removed unused scripts from the website, which improved page loading speed significantly. These changes helped improve our rankings in search engine results pages (SERPs).
The next step was to create a content strategy based on relevant low-difficulty terms.
We accelerated content creation over two months with quick improvements in SERP rankings.
This increased sign-ups for gated content!
The Content Strategy
Once technical issues were addressed, it was time to plan a content strategy to boost our rankings and ensure we got the most bang for our buck. We focussed on three main areas:
Statistical Content Creation
Featured Snippets Optimisation: Our trigger for rapid growth was featured snippets, allowing us to land a snippet for many questions related to the client's niche topics.
We understand SEO is about executing results with constraints & limitations, so within our we emphasise organic growth through keyword targeting and snippet optimisation while also taking into account client expectations and budget constraints at all times!
Building Authority
We knew that link building was going to be a challenge for our SEO case study. We had planned on doing link building from the start, but we weren't expecting any monumental results with a limited budget and only one person working on it.
However, we still decided to focus heavily on relevancy for the links. We used resource links, expert commentary, high-quality guest posts, and company roundups for property tech sites.
Using various outreach strategies such as sending emails or making calls to relevant websites and blogs was something we found ourselves doing more of as time went on. This allowed us to gain high-quality backlinks that would also bring traffic with them.
The key takeaway here is that there are no shortcuts when it comes to link building. You have to be willing to work if you want results! It takes time (and often money), but with consistent effort, your website can easily benefit from improved ranking positions due to quality backlinks alone.
Results By The End Of Month 4
At the end of month three, you'd already seen the fruits of your labour pay off with increased website traffic.
The time constraints and budget limitations had been a test for you, but with data analysis, content strategy, and keyword research you were able to optimise for success.
With PR and link building tactics such as resource links, expert commentary, high-quality guest posts, and company roundups this site – plus accelerated content creation.
The client was delighted that all this was achieved within their restrictions; both parties had worked together to create an effective SEO campaign, resulting in sign-ups.
With the help of featured snippets and compounding efforts on de-optimised pages that were resubmitted in the search console for assurance – as well as stripping back 20 pages where the site was an outlier in SERPs – it became clear that SEO is a long-term play that comes with great rewards.
Your work here has destroyed the notion that SEO is a dark art, instead showing what can be achieved when there's transparency between the client and agency.
Where The Magic Started To Happen
When you begin to implement SEO strategies, the magic starts to happen.
Data-driven content was optimised for relevant keywords and organic traffic started increasing exponentially. Social media activity also boosted as we shared our content and interacted with customers.
We noticed a steady increase in visits over three months which could be attributed to our on-page efforts and off-page link-building activities.
Implementing SEO strategies worked like a charm, and we exceeded our expectations by reaching 41,000 clicks within eight months on a limited budget!
This goes to show how effective SEO can be even when working with limited resources and time constraints – it's indeed a long-term play but if done right can yield tremendous results in terms of increased traffic and conversions!
The Results At Month 8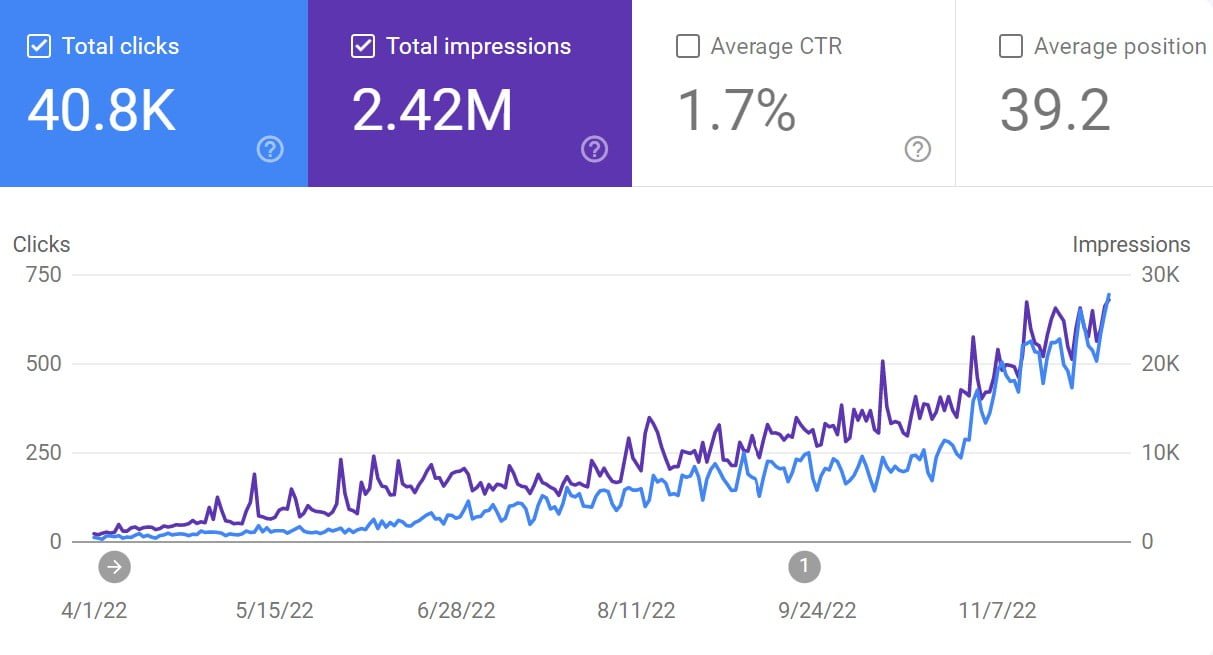 After fully deploying our 8-month strategy, the site's sales increased by 800%. 
Additionally, the client had now achieved rankings for more than 420 keywords within the top 10 positions, a significant increase from the initial count of 0 keywords when the campaign commenced.
Final Thoughts
This case study shows how powerful SEO can be, even with limited resources and time constraints! You've realised that a small budget and one person with two writers were all it took to get the client from 0 visits to 41,000 clicks in 8 months.
This case study has demonstrated that SEO does not need to be a dark art; its purpose is to provide a behind-the-scenes look into an effective campaign while being honest about clients' challenges and limitations.
It shows that successful SEO strategies can always be implemented with creativity and commitment, no matter your project's size or budget!
If you require assistance boosting your organic search traffic, you may consider examining our SEO services or contacting us for a free SEO review of your business.
Your customers On Google May Not Give You A 2nd chance to make a first impression